Last October, my buddy Manley, I call him Squeaky,  came over handed a little blue bag and said "This is for your training."  I thought cool, Manley rocks!  I opened it up and looked in.  I stood there just staring in the bag for a long time, amazed, and then I looked up as he walked out of the room.  In the bag was a small box of Wheaties, a water bottle,  AND . . .  a Garmin 310XT GPS watch.   Holly Cow!!!  Thank You!!!
The Garmin 310XT is Awesome!!!  I highly Recommend it!!!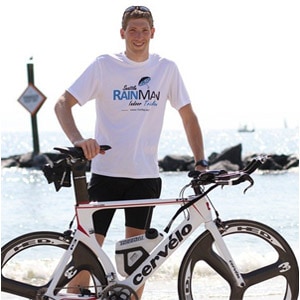 As of a year later, I am just starting to really understand and use it to its full potential.  The other night I was looking up "average pace" and came across a really cool resource - the DC Rainmaker Rocks!  He has done some in-depth research on GPS watches including reviews and 'tutorials'. 
Check out his posts . . . Just Awesome!!!
Garmin Forerunner 310XT In Depth Review
The Art of Pacing with a Garmin
Choosing your Garmin device data fields
Understanding Sport Device GPS Elevation Issues 
A solution to heart rate dropouts/spikes with Garmin HR Soft Straps
Sport Device GPS Accuracy In Depth: Part I
Sport Device GPS Accuracy In Depth: Part II
Features I want changed:
The lap screen is way to small and my 42 year old eyes cannot really read it on the fly.  So either make it full screen or give it the option to turn off.  I do like to hear the lap sound though, but when I look at my watch I can't read anything because the lap screen just covers the rest.  It just makes me frustrated.  This watch is very popular with the the older ultra runners – we all use reading glasses.

The strap has issues . . . Not the device. 

Read DC Rainmaker's post.

    Buy the Polar strap and clip your Garmin device to it.  I guess it fixes the problem.    I am going to test one out within in the week.

Although the watch will still work and gather GPS data while charging, the display is not active.  The only way to look at the screen is to unplug it. 

I would love to be able to charge the watch without taking it off my wrist.  The snake clip is just too big.