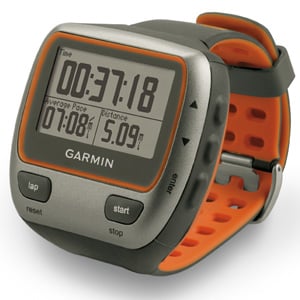 I do not know if this is over kill, I just know if I spend this kind of money – $400, I want it to work. In the past I have been using my iPhone G3, but man I am always loosing signal; particularly on the trails. There are moments that I actually run 30 second miles. I know I am fast, but . . . Either way, it is not working out for me.
I ran my first self-sufficient marathon, Aneto Marathon, in northern Spain July 2011. It seemed like I was the only one without a GPS watch. I was given a large fan-fold map and I was required to bring a compass, the trail was not marked for racing. Needless to say, I got lost twice and for over 45 minutes no less. I was pissed off, I was running strong, the strongest I have ever been, and got lost.
So here it is, Garmin Forerunner® 310XT. It is big, but it actually fits on my small wrists – comfortably. But is it worth the price? I am looking into it and will let you know what I find out.