I have owned 20+ headlamps over the years, for mountaineering, caving, climbing, camping, roadside car trouble, and even have one next to my bed.   When the first LED headlamps showed up, I thought they were so cool, I gave one to everyone in my family for Christmas.  They are just so practical.  
August 2011, I ran my first self-sufficient mountain marathon.  I was required to carry a 35+ lumens  headlamp during the race.  I did not really have a headlamp for running, just really small emergency lights.  So I had to buy a new one, The problem is, I spend a ridiculous amount of time buying just about anything.  It drives my wife crazy.  I research it to death and do tons of test drives.  I am not a total gear nut, I just do not have the money to throw around.  So when I buy it, I want to make sure it is right.
Either way,  I bought the
Petzl Tikka 2 LED
for $29.95.  I thought it was decent price, and one of the least expensive at that price point.  Petzl even recommended it for running.  It is super light, 55.8 grams with batteries, now this is assuming you are using lithium.  On it brightest level, it will last up to 90 hours, which is a long enough for running.  It is water resistant and performs in extreme temperatures from -40°F to 140°F.  Overall, it was the best choice for an
emergency  headlamp.
  So far, I have only really needed it once and only used its strobe feature to let the cars know I was there.  As a trail running headlamp, it is just not bright enough.     
Now for actual night running like the
Leadville Trail 100
, the
Tikka 2
at 40 Lumens is not bright enough.  You need one with a spot light.  My eyes will be straining enough from the long day, I will want all the lumens I can get.  I was considering buying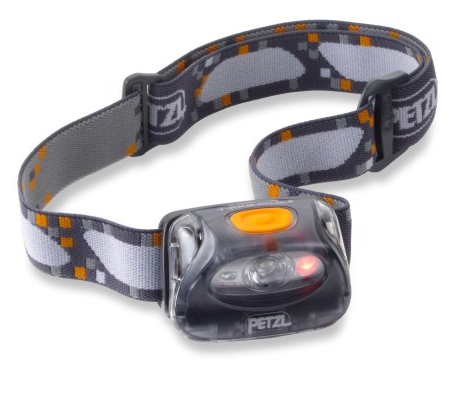 either the 
Petzl Tikka Plus 2
(50 Lumens & 69.8g) -$39.95
or
Petzl Tikka XP
(60 Lumens & 74.8g ) Headlamp - $54.95.   *As you read below, I went all out when it comes to lumens . . .
UPDATE

2/21/12

:

Since I might be running at night for a little
bit next race, hopefully not too much, I  bought a new headlamp.  My plan was to get the
Black Diamond Sprinter
,
$54.93 $79.95,
which is specifically designed for running. 
*It did not sell at its previous price point.
  When I realized it had a rechargeable battery and a 5 hour life on high, I put it back on the shelf.   It did feel great on my head, better than all the other models; this was partially do to the extra thick/soft band and the optional top strap.   I would have bought it in a second if it took AAA's and lasted longer.  I also liked the how it was balanced with the batteries on the back.  Another cool feature is the rear read flashing beacon for road running.   It is a fairly new product, so if
they release a battery version, I am buying one.  Maybe?  
I ended up buying the
Black Diamond Storm.
  It was a bit heavier than the Tikka XP ( by 4 nickels) weighing in at 92.4g (w/ lithium batteries), but I think it was worth the 100 lumens of light.   It has a 50 hour life on high and is water proof.  The price is a bit cheaper too, $49.95. 
UPDATE 10/4/11:
  The
Black Diamond Storm
was awesome!! I did not even feel the weight on my head during the last section of Devil Mountain 50 mile.  I am so glad I paid $10 more to jump up from the 75 to the 100 lumens.  The terrain was very technical and it was worth the extra 20g (4 nickels) of weight.  When I tried it on in the store, it seemed to bounce a bit, but I did not notice it during the race -  granted my head was numb by then. For an ultras or any long periods of time running at night, 100+ lumens is the way to go.  I can't imagine anything less.
UPDATE 12/7/12:
First I still love The
Black Diamond Storm
, and use it all the time, but I tend to wear it on my waist instead of my head.  Using it on the waist works great, you can even adjust the strap behind the lamp to stretch more.  *Note when you where it back on your head because you can't find your other light . . . It doesn't fit as snuggly.  The only think I would add would be a diffuser to spread out the light more, but it still works great and super bright next to the ground.
A week before Leadville this year, I decided I needed a second head lamp.  I basically wanted the Storm with a diffuser, but could not find anything that worked like that.  I bought the
Petzl Myo RXP 2 Headlamp
display model; it was the last one.  At first I did not want a light with the battery on the back, but now I think it is more balanced ad like it almost better.
*I wouldn't use it for a waist light though.
PROS:The light is super bright and I love the built in diffuser. It has 3 lighting levels that can each be programmed from 10 different possible lumen ranges from 13 - 141, not that I read the manual prior to using it.  I still haven't set the levels and honestly forgot about it, but will set them this week. 
CONS: I HATE the switch on the top of the light.  It is just difficult to use, and I have on many occasions had to take it off to turn it on.  Frustrating when you are running with a group.  Very Pricy $89.95.
PRO/CONS: The light dims over time,which could be a good or bad thing.  I went out for a run thinking my light had a full charge and it didn't. The good thing is that you always have light but just dimmer when the battery is low, but not enough to run with I found.  I took a hard fall with a dim light last week.  Half way through the run the light warned me with two bright flashes that the battery was low, but of course it was way too late.  I just needed to get off the mountain.  I could have walked more safely and maybe run out of light completely, but did not want to risk it so I ran to the car to get more batteries; I fell!  After that, my eyes were stressed and super focused for those last 2 miles.   The light never turned off, just continued to get dimmer.  The Petzl statement is very misleading:  3 AA alkaline batteries provide up to 53 hrs. of use on high and 86 hrs. on low. 
Overall: I would recommend it and buy it again. 

Battery Weight? Does the weight of the battery really make a difference? Yes, in a way it kind of does, not necessarily for carrying weight, but what I have found that the heavier it is the more it bounces.  Also the heavier it is the tighter you have pull the strap on your head.  Lithium batteries are lighter than alkaline by almost 40%.  I have been using the Energizer Lithium AAA's weighing in at 0.269 oz (7.6 g) each, compared to the Energizer Alkaline AAA's at 0.431 oz (12.2 g) each.  Now we are talking about 15 grams which is equivalent to 3 nickels.  Is that enough to worry about, that's your call.